Flemish Minister of Mobility Lydia Peeters opens first ultra-fast IONITY charging points on the Brussels Ring
First step of Living Tomorrow innovation campus as important Hoppin point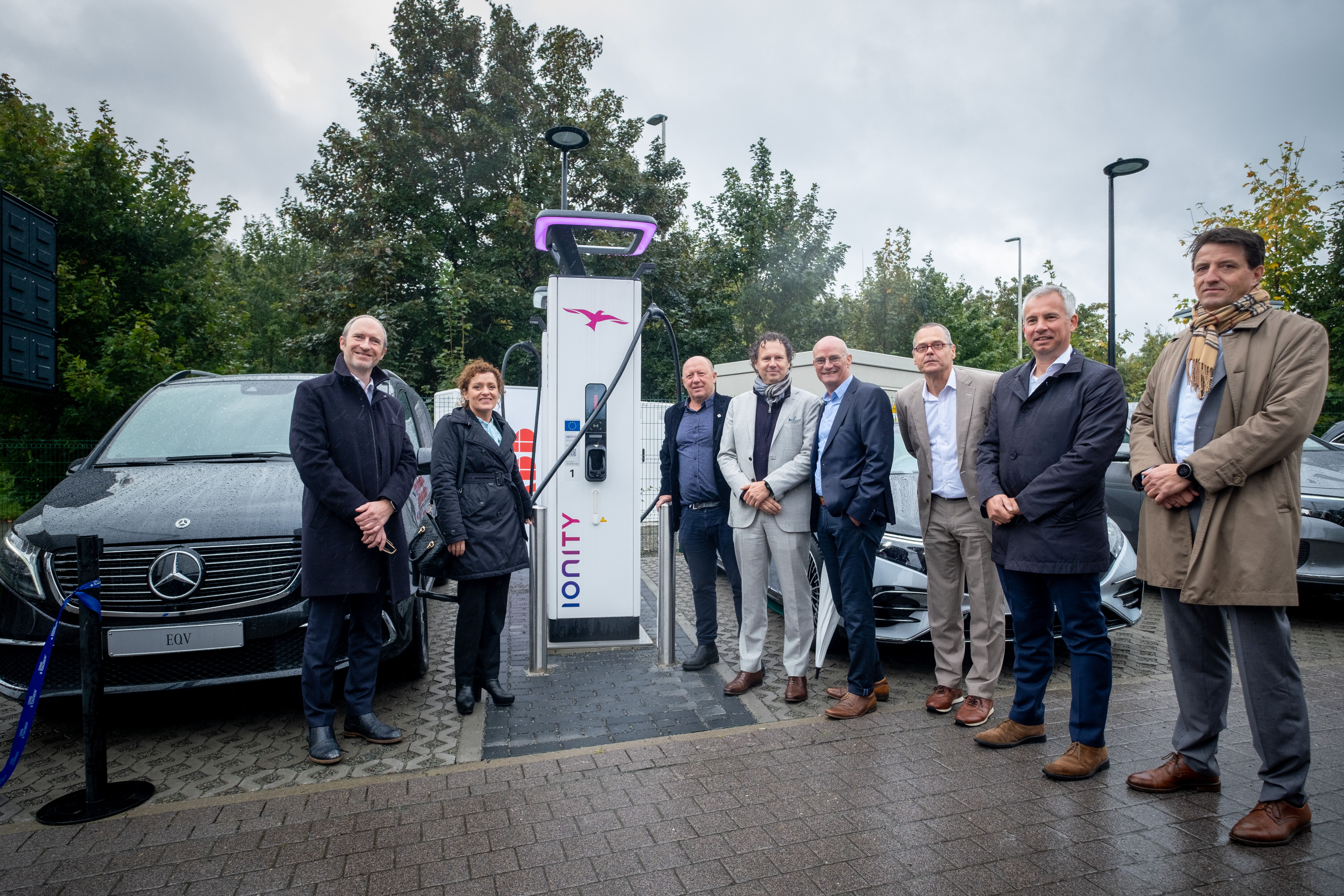 Flemish Minister of Mobility and Public Works Lydia Peeters, together with Mayor of Vilvoorde Hans Bonte, inaugurated the first four 350 kW ultra-fast charging points of Europe's largest high-power charging network IONITY on the Brussels Ring on the innovation campus of Living Tomorrow. Anyone can come and fully charge their electric car in around 15 minutes at these charging points – a collaboration of Living Tomorrow participants IONITY and ABB. "With this Living Tomorrow is taking an important step in the direction of the future of electric driving and as one of the major Hoppin points or transport nodal points of the future in order to improve mobility in the Flemish Periphery", said Minister Peeters.
​​
​Electric driving is becoming an ever more firmly established practice. Car makes such as Mercedes-Benz - which introduced its EQ line - are committing themselves unreservedly to electric cars with constantly-improving batteries and range and parties like IONITY (Europe's largest high-power charging network) and ABB are steadily building more and faster charging infrastructure. Their collaboration is resulting in ultra-fast charging points with which you can fully charge your car (depending on the model) in a mere 15 minutes. For example, with the new Mercedes-Benz EQS you charge up to 300 kilometres of extra driving range in less than 15 minutes. And where better than the innovation campus of Living Tomorrow to install the first of these Ionity ultra-fast chargers on the Brussels Ring? ​ ​
"Electric mobility with ever-faster charging possibilities is experiencing an enormous boom. We are very proud that, together with our partners, we can play a role in this evolution and be the first to make the future of electric driving tangible here in the region", says Joachim De Vos, CEO of Living Tomorrow. ​ ​ ​ ​ ​ ​
"The roll-out of ever more and better (faster) charging infrastructure is the spearhead of our electric mobility policy. Our goal is to install an (ultra-)fast charging point at least every 25 kilometres on major Flemish traffic arteries. So it's fantastic that the Living Tomorrow innovation campus and its partners are playing a pioneering role, certainly in an important mobility region such as the Flemish Periphery", Flemish Minister of Mobility Peeters observes. ​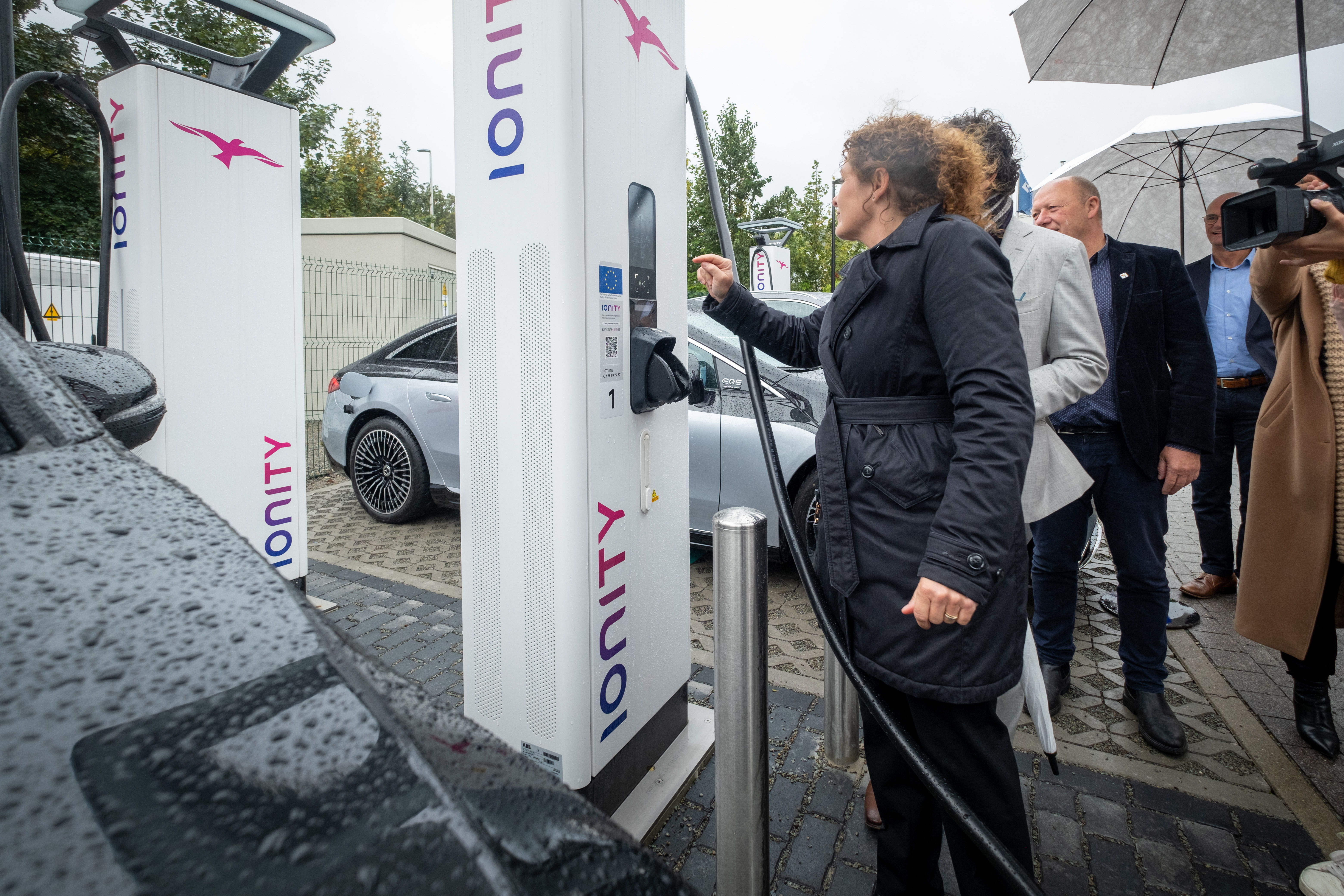 Cycling highway and drone port ​
Moreover, with the ultra-fast charging points Living Tomorrow is taking a first step towards the role it wishes to play as a Hoppin point (transport nodal point) of the future. After all, the new campus – where a 15-floor futuristic tower is being built – will ultimately become an interesting nodal point of the Ringtrambus, the cycling highway to Brussels centre and a drone port with possible connection to Brussels Airport. "Together with the city of Vilvoorde and the provincial authorities we have developed a plan where we will all work together on tomorrow's mobility for the region. For instance, we want to make our innovation campus an interesting hub that people can reach easily and sustainably, but from which they can also continue in the direction of Brussels centre or Zaventem. We want to make electric bicycles and speed pedelecs available as well", Joachim De Vos explains.
"Such Hoppin points, where different transport solutions meet, are an important part of our mobility strategy. We want to roll out more than 1,000 of them all over Flanders. It´s wonderful that Living Tomorrow is contributing to this project", says Minister Peeters. ​ ​
Hans Bonte, the Mayor of Vilvoorde, is also delighted about the first ultra-fast charging points in his city and the initial steps toward making the Living Tomorrow campus a mobihub on the Brussels Ring. "It´s no accident that this first is happening on the territory of Vilvoorde. A few years ago the first Flemish mobihub was set up at the Vilvoorde train station, and the official opening of the first Hoppin point on the Vuurkruisenlaan will take palce shortly, which should stimulate the use of public transport and shared bikes. Building a mobihub at Living Tomorrow will play a central role in developing a new mobility network that extends from Brussels Airport to Heysel stadium and the centre of Brussels, with a generous focus on soft mobility public transport and electric transport. The ´floating´ bicycle highway and the Ringtrambus, which runs past Living Tomorrow, constitute an important part of this network. We are very proud that, together with Living Tomorrow, we will be able to evolve into a ´smart city´ in terms of mobility and in countless other ways", the Mayor concludes.
Press contact:
Karen Sleurs
​Communications agency Wyngs under commission of Living Tomorrow
​Tel.: 0485 28 73 52
​E-mail: [email protected]
About Living Tomorrow
Living Tomorrow is a social demonstration and innovation project that strives to prepare organisations and people for and inform them about the future. This is achieved by providing research & development support to dozens of government institutions and companies in the form of open innovation, vision and strategy accompaniment, pilot and experimental projects. Thanks to the many years of experience of and intensive accompaniment by Living Tomorrow in collaboration with its spinoff TomorrowLab, future scenarios can result in demonstrations and proposals of new concepts.
Together with its partners, Living Tomorrow offers a future and innovation experience to thousands of visitors. They are given expert explanations and Living Tomorrow and its partners receive valuable feedback, which can then be integrated into further future research. In addition, visitors are also informed about the future, innovation, technology, social media, the internet, etc.
More information at www.livingtomorrow.com and www.tomorrowlab.com. ​
​​
​​
​About ABB
ABB´s Electrification Business Area is a world leader in electrical products and solutions, active in more than 100 countries, with over 200 production sites.
Our more than 50,000 employees strive to change the way people live, connect with one another and work by supplying safe, smart and sustainable electrification solutions.
We are giving shape to the future trends of electrification and distinguish ourselves through technological and digital innovation, while offering our customers an exceptional experience through operational excellence in utilities, industry, buildings, infrastructure and mobility. For more information, go tohttps://go.abb/electrification
​
About IONITY
IONITY is making long-distance travel with electric vehicles the new normal. The company is building and operating a high-power charging (HPC) network along European motorways, using advanced technology with a charging capacity of up to 350 kW. In this way, drivers of present and future-generation electric vehicles - with the help of the leading European charging standard CCS (Combined Charging System) - can benefit from maximum charging speeds while taking a break during their journey. Each IONITY charging station has an average of four charging points. To help achieve sustainability, all IONITY chargers deliver 100% renewable energy for both emission-free and carbon-neutral driving.
IONITY was founded in 2017 and is a joint venture of BMW Group, Mercedes Benz AG, Ford Motor Company, Hyundai Motor Group and the Volkswagen Group with Audi and Porsche.
IONITY´s over 110 employees are shaping the future of e-Mobility.
The headquarters of IONITY is established in Munich, with an additional office in Oslo, Norway. IONITY is an internationally registered trademark.
You can find more information at: www.ionity.eu.

​Mercedes-Benz AG at a glance ​ ​ ​
Mercedes-Benz AG is responsible for the worldwide activities of Mercedes-Benz Cars and Mercedes-Benz Vans, with more than 170,000 employees all over the globe. Ola Källenius is chairman of the Board of Directors of Mercedes-Benz AG. The company focuses on the development, production and sale of passenger cars and vans, as well as vehicle-related services. The company is also striving to play a leading role in electromobility and vehicle software. The product portfolio includes the brand Mercedes-Benz with the sub-brands Mercedes-AMG, Mercedes-Maybach, Mercedes-EQ, G-Class, as well as the smart brand. The Mercedes service brand 'me' offers access to the digital services of Mercedes-Benz. Mercedes-Benz AG is one of the largest manufacturers of premium passenger cars. In 2020, around 2.1 million passenger cars and almost 375,000 vans were sold. In these two divisions Mercedes-Benz AG is constantly expanding its worldwide production network with around 35 plants on four continents, and in so doing respects the requirements that are being placed on electromobility. At the same time, the company continues to grow its global battery production network on three continents. Sustainability is the lodestar of the Mercedes-Benz strategy and for the company signifies the creation of sustainable value for all stakeholders: customers, employees, investors, business partners and society as a whole. The basis for all this is Daimler's sustainability strategy, in which the company assumes responsibility for the economic, ecological and social effects of its business activities and that takes the entire value chain into account.